About Lasalign
Our journey began in 1978, and we've continued expanding since day one. Learn more about us below.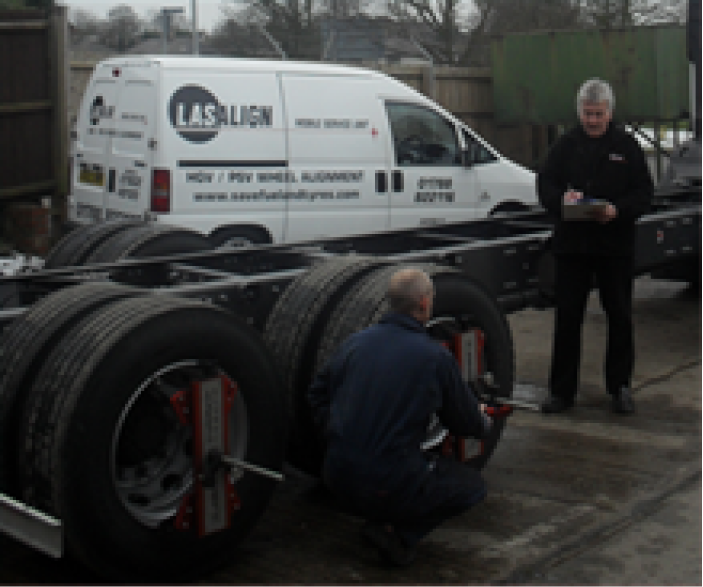 Who are we
ESTABLISHED in September 1978, LASALIGN LTD (formerly TRACKER TRUCKS) is believed to be the 1st dedicated mobile wheel alignment company in the world.
We were originally founded to cater for the HGV trailer axle re-alignment market, with the intention to preserve tyres and fuel, using unique LASER assisted measuring equipment. The alternative method being a tape measure or string line from the trailer kingpin to the axle stubs, to measure equal lengths. As can be imagined, errors were plentiful and efficiency was lax.
Most potential customers were understandably sceptical to this new way of "saving tyres and fuel" and many agreed to conduct their own "before and after test" – all of which proved to be a positive result. Safeway Food Stores, BOC Transhield, Ashtran, and Ms Whitetrux (the latter famously running the gauntlet to the Middle East) became regular customers, to name a few in the South East of England.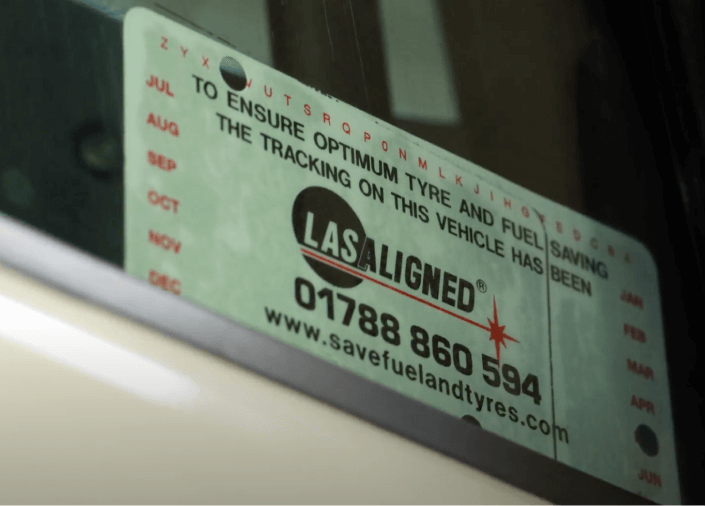 We save you money on fuel and tyres
We came to the attention of the Department of Transport in late 1979 and, by early 1980, a controlled test had been arranged and carried out at the Road Research Laboratory in Crowthorne on their figure of eight track. This test was conducted by Dr Williams and the government results are set in stone. 1° misalignment equates to a 3% penalty on fuel, with 2° stealing 8% on a tandem axle configuration. Back then tyres and fuel were more affordable, but the percentages remain the same to this day and the savings can be vast.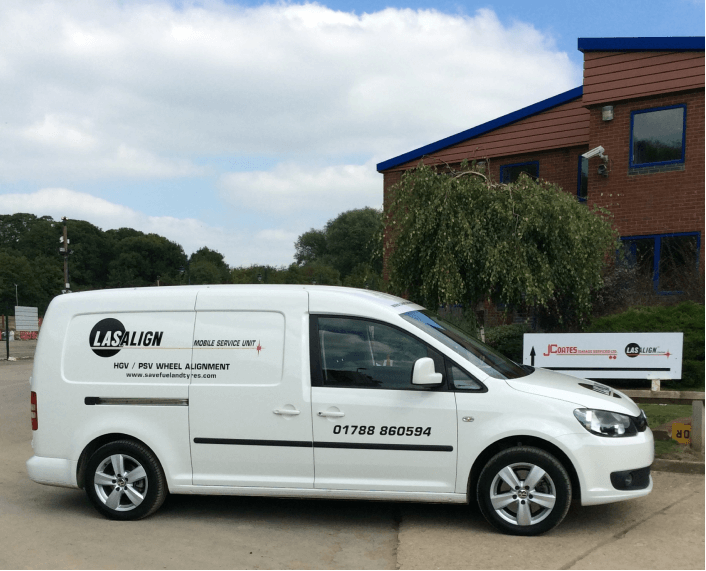 A double page editorial featured in the Commercial Motor magazine soon after, resulted in enquiries and requests for the service from all over England, Scotland, and Wales. It was decided in 1981 that a move to the Midlands would make sense geographically in order to manage demand. Our HQ and static workshop are still based very near to J18, off the M1. Elusive passing vehicles make good use of this facility that would otherwise be difficult for our mobile engineers to pin down.
It was assumed that most HGV maintenance centres had some means of checking steering axles, with a Dunlop periscope or Trammel bar. Judging by the numerous requests we received to provide this service, alongside our already established market, we decided to add this facility in the mid-80s, using recognised LASER assisted equipment. We are constantly negotiating with vehicle manufacturers to allow us to tailor their vehicles for our mutual customers' requirements, staying within their tolerances, but perhaps at the other end of it. Each vehicle type or configuration may enjoy a different setting, depending on its use to achieve optimum tyre and fuel results. We pride ourselves as being recognised as extremely competent in this area, by all concerned.
Another niche market that we have discovered is the removal / replacement of self-steering axle kingpins. This has required us to invest heavily in equipment capable of carrying out the task (not for the faint-hearted). We are proud to be recognised agents for BPW Axles – and the process can be offered to customers with a 24 hour turnaround in most cases. Read more about our replacement of self-steering axle kingpins service here.
Whilst we continue to check and adjust the wheels on vehicles, ranging from 500 tonne cranes, military tank transporting vehicles, right down to transit sized vans, and everything else in between. We're also constantly on the lookout for potential problems that, with our vast experience, we're considered, by the industry, capable of addressing, to save on fuel and tyres.